Specialty flooring systems have foreseen huge demand due to customized requirements and demand for eco-friendly flooring solutions. Water-based Epoxy & PU Composite Flooring systems floor coating was developed as a premium quality, environmentally friendly answer to cater to this demand. This flooring exhibits outstanding water- chemical-resistance and a superior combination of impact, abrasion, and scuff-resistance. These types of flooring systems provide a matt finish and are insensitive to moisture in the base of the concrete floor surface.
Water based Epoxy & PU Composite Flooring systems are seamless, joint less uniquely formulated self-leveling systems for use where exceptional chemical, abrasion & impact resistance are required. Some of its advantages are-
Water-based and hence VOC compliant as well as moisture insensitive
The flooring is joint-less and monolithic and hence oil and grease does not penetrate through the joints
Fast setting & hence very short turn-around time
Highly abrasion resistant
Only system with very high compressive as well as flexural strength
High impact and chemical resistant
More durable than most of the flooring systems
Semi-glossy floor, can resist hot water and easily cleanable
Anti-bacterial & anti-fungal surface
Optional PU sealer coat will improve stain resistance
Applications of Eco-Friendly High Strength Floors
Warehouses, wash areas and dispatch areas in pharma units, Airport hangars and other heavy-traffic areas, Food processing industry especially cold rooms including flight-kitchens, ships, dairies Electrical, Automobile and auto-ancillaries, Very high abrasion areas such as assembly lines, card-punching etc, Refrigerated vans and other steel structural flooring, wherein corrosion resistance is required.
No matter what kind of concrete surface you have, there is always a range of flooring and finishes that can be added to enhance the protection and aesthetics of your floors. Some of our PU Concrete and Epoxy Concrete Flooring works are shown below.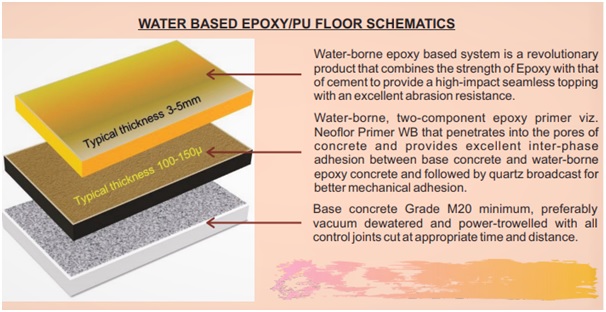 Water-Based Epoxy / PU Composite is used in a wide range of industries, not only in industry, but also in many smaller-scale businesses. The important characteristics of Water-Based Epoxy / PU Composite, the easy cleaning with achievement of important standards and the durability are the most important factors. Here are some examples of the use of PU concrete / polyurethane concrete: Chemical industry, Pharmaceutical industry, Research areas, Cold Storage, laboratories & processed food industry, butchery & bakery, also wine press & brewery and Cheese & Dairy.
Conclusion:
Specialty flooring is recommended for special applications purposes only-
Water-borne epoxy cement composite flooring (with or without polishing)
Water-borne polyurethane cement composite flooring
The above floorings are required when the following properties are desired:
Where exceptional abrasion and impact strength are required
Hot water/steam wash is required
Specified chemical resistance
As moisture barrier system