Waterproofing helps to seal a new construction site early, making it more comfortable in the long run. By taking these measures, the interior of the building is kept dry. It makes it more comfortable to live in, while also providing a foundation for further work later on. Planning for this ahead of time can prevent headaches later on. Because concrete technology is less exposed, waterproofing is one of the most critical, yet neglected concerns. The issue is considered more of an inconvenience than a serious one most of the time. However, avoiding it will worsen the problem and leave your wall soaked in a flood, giving your wall an ugly appearance. As the needs and demands for waterproofing technologies change, trends for their demand also change.
These five waterproofing systems are currently in demand.
PU based waterproofing
Base and reactor are the two parts of polyurethane. As the base, polyol acts as a catalyst, while isocyanide acts as the reactor. The combination of both these in a specific design ratio creates a liquid coating for waterproofing applications. Polyurethane is a rather popular choice due to its ease of installation. Unlike other waterproofing systems like sheet membranes and liquid applied membranes, this polyurethane application requires comparatively less skill and supervision. Application is fast and this type of treatment can be used for post-construction applications as well. Detailed methods for surface preparation and application are prescribed by the product supplier and often supervised by them in large project applications. Waterproofing is an expensive business, still it is better to prevent leakages and take all precautions during the construction stage itself.
Advantages;
• Simple application • Resistant to water • Resistant to frost • Crack-bridging • Provides water vapor permeability • Provides excellent thermal resistance, it never turns soft • Provides excellent adhesion • Resistant to detergents, oils, seawater and domestic chemicals.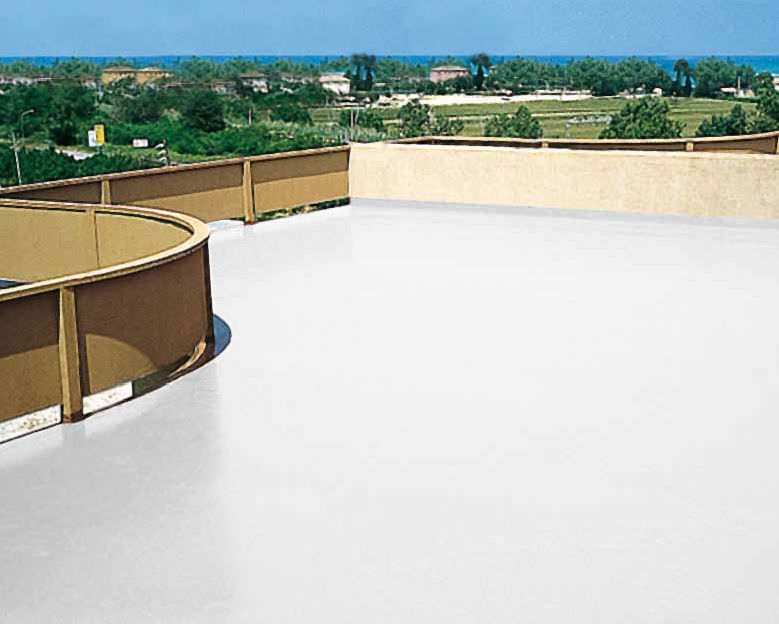 Polyurethane Waterproofing Procedure:
The roof surface is thoroughly cleaned with a wire brush and all foreign matter etc. is removed. Well defined cracks on the surface are cut to "V section, cleaned and filled up with a paste of 2 component Polyurethane based crack filling compound and white cement in a ratio of 1:2.
Primer Coat Application is then done. It consists of two packs of Polyurethane. Primer coat is mixed in the ratio as per Manufacturers' specification. A single coat of this primer is applied by brush over the prepared bed as an adhesion coat
The finishing coats consist of three successive pigmented sealing coats each of two pack Polyurethane mixed in the ratio as per manufacturer's specification.
Application of finishing coat is done with brush to a smooth and even finish. The overall dry film thickness should be 450 microns or minimum covering capacity should be 160 gms/m2 per coat.
Each coat is allowed to dry for a minimum 12 hours before applying next coat. Care is taken for quick application after mixing the two pack primer in view of short pot life of the mix and should be fully consumed within the stipulated period as per manufacturer's specification (maximum 60 minutes at 30 deg. C).
The PUS coating should be continued up the parapets/walls for a minimum of 150 mm over the finished roof surface. It should be continued into rain water pipes by at least 100 mm.
The final coat of PU when tacky is sprinkled with 300 micron layer of clean sand.
Plain cement concrete (1:2:4) of 25 mm minimum thickness with 24 SWG chicken wire mesh is laid to slope in panels of maximum 1.2 M x 1.2 M size over this. The joints between panels should be raked out neatly (after stipulated curing period) to a minimum 6 mm x 6 mm V-groove and filled up with an approved quality elastomeric compound sealant.
Drain outlet is provided for all spouts/rain eater pipes by suitable rounding, filling and sloping of PCC as per drawing.
At the junction of the roof and parapet or any other vertical surfaces, a fillet of 75 mm radius should be formed in cement concrete (1:2:4).
Applications-
Roofs
Balconies, terraces and verandas
Wet areas (under-tile) in bathrooms, kitchens
Pedestrian traffic deck
Old bitumen felts, asphalt felts, EPDM and PVC membranes and old acrylic coatings.
Concrete constructions like bridge-decks, tunnels, stadium stands, etc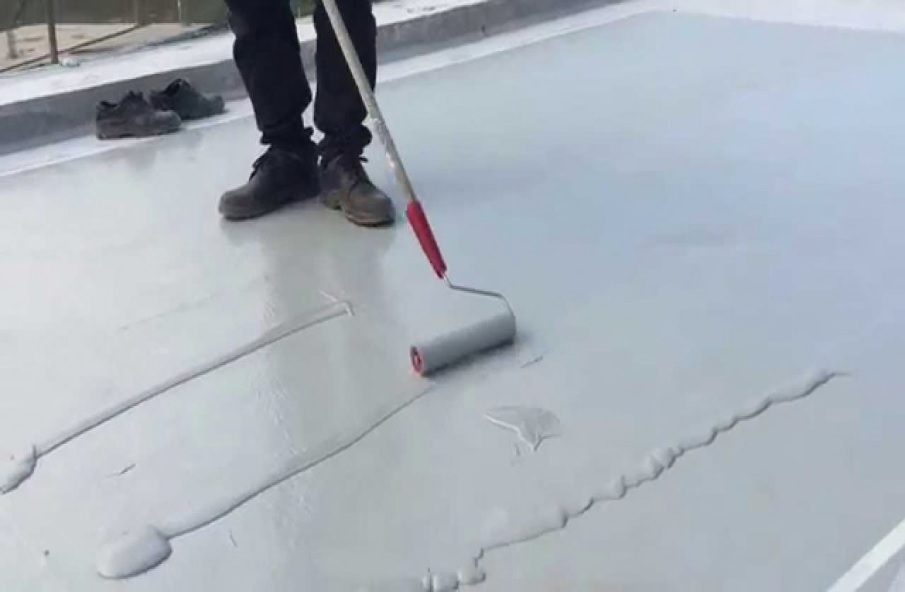 Bridge deck waterproofing
The waterproofing of a Bridge Deck paved with Asphalt (Tarmac) is one of the most challenging waterproofing in civil engineering. It must prevent water ingress and offer mechanical resistance to long-term vehicular traffic. Concrete bridge deck deterioration is one of the most extensive bridge maintenance problems affecting the service life of bridges. One cause of the deterioration is the penetration of moisture and chlorides into the concrete with subsequent corrosion of the steel reinforcement. The use of waterproofing membranes is one strategy to prevent moisture and chlorides from reaching the concrete by providing a barrier on the top of the concrete deck. The waterproofing membrane is then protected from the traffic by an asphalt overlay. To increase the durability of reinforced concrete bridges, all concrete movement and construction joints, plus the bridge decks have to be waterproofed to prevent serious damage to the concrete, or to the embedded steel reinforcement. Due to dynamic loading, the bridge decks must be protected with elastic, crack-bridging systems to accommodate any movement and maintain the protection.
Two types of Bridge deck waterproofing systems are available for use:
Sheet Systems These are Polymer Modified Bituminous sheets bonded to the bridge deck, using torch application, hot mopping asphalt, or through self-adhesion. Manufacturers have developed various systems that would satisfy the enhanced requirements of the bridge deck waterproofing market.
Liquid (Sprayed) Systems These systems largely fall into acrylics and Polyurethanes and normally consist of three elements. Primer, Membrane applied in one or two coats and tack coat specially developed to enhance the bond of the membrane to the surfacing mix.
Advantages of this system include- Elastic, crack-bridging properties, especially at low temperatures, Resistance to chlorides and automotive chemicals such as fuel, oils and hydraulic fluids, Easy to install and accommodate variations in level and substrate conditions and Fast application to reduce traffic closure times.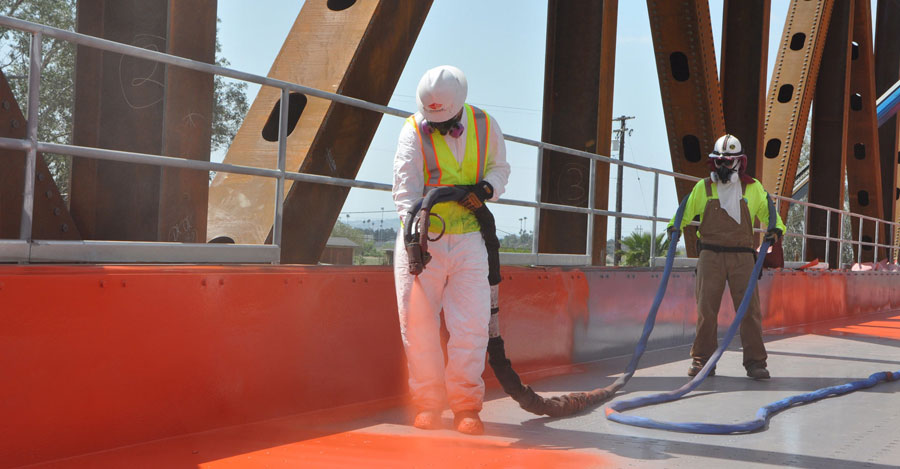 Basement Waterproofing
Basement waterproofing involves techniques and materials used to prevent water from penetrating the basement of a house or a building. Waterproofing a basement that is below ground level can require the application of sealant materials, the installation of drains and sump pumps, and more. Waterproofing is usually required by building codes for structures that are built at or below ground level. Waterproofing and drainage considerations are especially important in cases where groundwater is likely to build up in the soil or where there is a high water table. Water in the soil causes hydrostatic pressure to be exerted underneath basement floors and walls. This hydrostatic pressure can force water in through cracks, which can cause major structural damage as well as mold, decay, and other moisture-related problems.
To protect your basement from water, you will need to dig all the outer perimeter of the basement all the way down to the base of the foundation. Having the right product applied over the walls will be key to having a successful waterproofed basement.
Drainage tiles, gravel or crushed stone drains, perforated pipe, or other approved systems or materials shall be installed at or below the area to be protected and shall discharge by gravity or mechanical means into an approved drainage system. With the excavation completed, clean the wall and check for any cracks or areas causing the water to seep in. If you have detected these issues, apply a coat of hydraulic cement to the walls to stop the leakage. Hydraulic cement will expand as it is curing and with its chemical properties, it will fill in the cracks and voids reducing the probability of leakage.
Apply a coat of cement based sealant to all exterior walls. Cement based sealants are easy to apply and can be used over concrete and masonry surfaces. This type of sealant will harden and will close the concrete pores. In case a hairline crack was not fixed in the previous step with hydraulic cement, it will be covered in this procedure. Install a waterproofing membrane. A heavy coat of the membrane, an asphalt-modified polyurethane material, can be troweled or sprayed on to seal the foundation wall against water from the outside. Elastomeric membranes are made of modified asphalt and exhibit great waterproofing characteristics. One of the most important benefits of elastomeric membranes is that they can flex and move to accommodate when new cracks occur. Be sure to use a waterproofing product instead of a damp-proofer product that is likely to fail.
Install a drainage mat with molded dimples. The material used needs to create air gaps between the wall and itself so that moisture can travel to the drain structure. The drainage mat should be cut to the exact depth of the foundation. It can also help ease lateral pressure against the foundation.
Install the French drain or weeping tile. It is good practice to install cleanouts, to provide easy access for maintenance purposes. Backfill with gravel and complete your French drain installation. Gravel should be 18″ from grade for earth areas, and 4″ from grade where cement will be poured.
Several measures exist to prevent water from penetrating a basement foundation or to divert water that has penetrated a foundation- Interior wall and floor sealers, Interior water drainage, Exterior drainage, Exterior waterproofing coatings, Box type waterproofing and Foundation crack injections.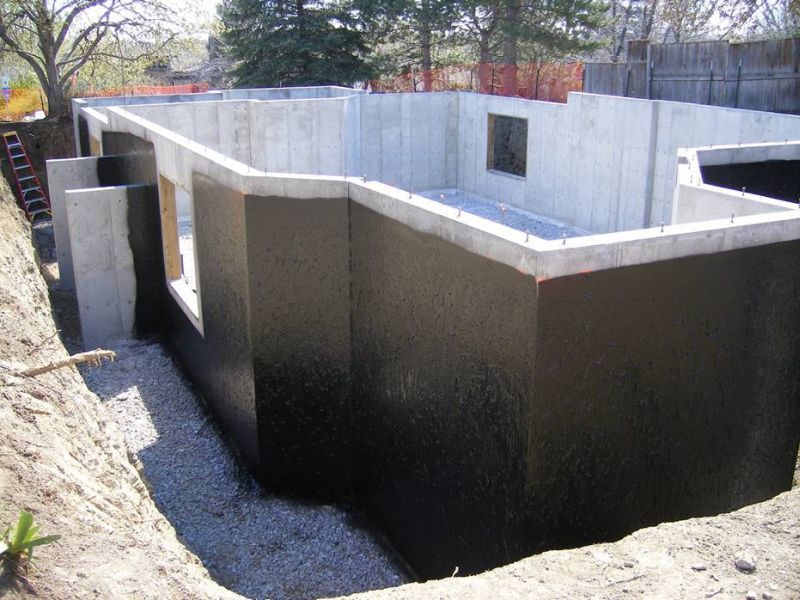 Swimming pool waterproofing
Swimming pools have become very common in most luxurious residential buildings, hotels, resorts etc. The building and hotel owners usually demand long lasting waterproofing solutions for their swimming pools. Architects, consultants and specifiers usually seek aesthetic as well as comprehensive waterproofing solutions for their swimming pools. Dura can provide complete solutions with a wide range of products.
Waterproofing plays a crucial role in sealing the construction and assuring a swimming pool's long life. This is because water places serious loads on the swimming pool structure and is an aggressive factor both for its frame and for all materials used in its construction. The walls and the ground of a swimming pool are subject to constant water pressure. To enjoy your swimming pool it is important to have permanent waterproofing. Since they are often in permanent contact with the water contained in the bath or pool, as well as with water in the ground, they must be waterproofed and protected from aggressive agents that could potentially compromise their durability over the years.  Reinforced concrete structures are often used in the construction of swimming pools. Even if the concrete is well made it will still need to be protected from "aggressive agents" that would otherwise accelerate deterioration of the element or structure and so reduce its durability over the years. Water from the ground, as with the water in a bath or pool, is naturally aggressive and, if it penetrates into the concrete, will weaken the structure. During the design phase, therefore, another very important aspect to be taken into consideration is the height of the water table (constant or temporary) in the area in which the structure is built. Once this evaluation has been carried out, it will be possible to define both the most suitable type of foundation and the most appropriate waterproofing system.
When the waterproofing coating is not completely watertight anymore, then humidity appears in pools. Moistures can have two different origins:
a) Filterings from the outside. They are detected because the pool water gets dirty because of the particles that are dragged by the ground taken by the pool. When the water from the outside seeps into the pool, it causes the pool liner to detach.
b) Leaks from the inside, more difficult to detect if they are small and go towards the ground. They occur when the pool ceases to be watertight, and they can happen towards the inside, in the pump enclosure or towards the outside, to the ground.
Some common steps for swimming pool waterproofing are-
You need to bring any variations in the pool's wall or floor (the mortar bed bonded to the cementitious waterproofing), within acceptable flatness levels.
To facilitate a strong bond for your waterproofing membrane and the tile, ensure that the substrate is properly prepared. Proper preparation requires removing any contaminants on the substrate's surface – including grease, residues and dust; as well as all loose materials, such as those resulting from honeycombing or laitance. Possible methods for cleaning include pressure washing, scarifying, sandblasting, shot blasting and grinding.
Apply the waterproofing membrane of your choice as per the manufacturer's instructions. Prior to coating the entire surface with the membrane, pre-fill all concrete cracks up to 1/8" wide. Flash all control joints, substrate joints, field seams and corners; anywhere vertical surfaces meet horizontal surfaces, such as curbs, bench seats and columns; anywhere dissimilar materials meet, such as drains and expansion/control joints.
Once the membrane is properly cured, test to make sure the pool is watertight before beginning the tile installation. To do so, fill the pool at a slow rate. Measure the water levels of both the pool and test vessel after filling, and again after several days. If the pool and test vessel have lost similar amounts of water, evaporation or wind are probably the culprit. However, if the pool has lost significantly more water than the test vessel, you will need to drain the pool and make repairs to the waterproofing system.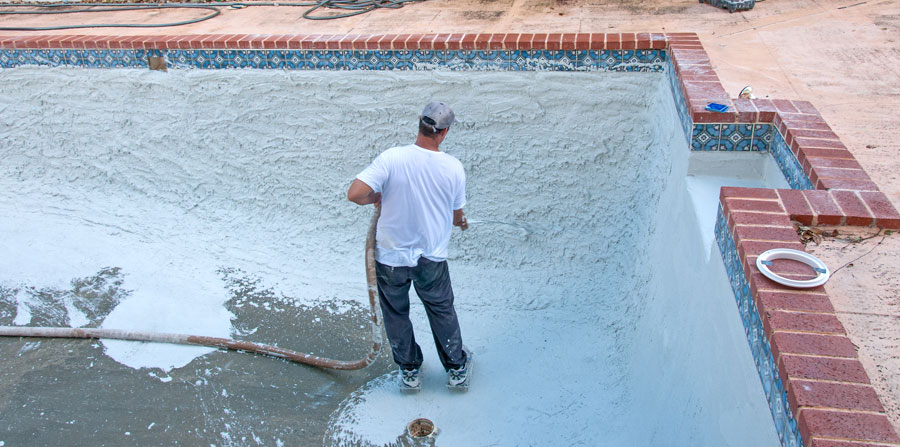 Rooftop waterproofing
One of the most important parts of keeping your roofing in great condition is making sure that it's properly waterproofed. Any amount of water damage can be detrimental to your roofing and, in turn, to many other parts of your home, so it's absolutely essential that you have high quality roof waterproofing installed. Depending on whether you have a flat roof or a pitched roof, you will need to use different waterproofing materials in order to properly protect your roofing.
There are many different waterproofing methods and materials available, including:
Waterproofing perforated film
Polymer membranes
Hydrophilic rubber
Surface waterproofing (acrylic, bitumen, silicone rubber, polyurethane mastic, etc.)
Sprayed waterproofing materials (poly-urea, acrylic formulations, liquid rubber, etc.)
Injected materials (polyurethane, silicate resins, cement, emulsions, etc.)
Penetrating materials
A tricky problem in building construction, mainly because the surfaces are flat. This means that the water cannot run off the structure quickly, and will move slowly or pool above the surface, creating opportunities for leakage.
Rooftop waterproofing should be able to resist leakage during heavy rainfall, and provide insulation against heat loss during summers/winters. Terrace Waterproofing is the Best way to Stop Water leakages and Humidity.
Conclusion
There is a prevalent demand for environmentally friendly products. Whether contractors are working in areas where VOCs are heavily regulated or not, a desire for environmentally friendly products is ever-growing. Expect to see further emphasis on the use of increasingly valuable low-VOC products as a result.