Water ingress often finds its way into a building; whether it's through a seam or join in materials, or through the deterioration of fabrics such as roofing felt. The challenge is to find a solution that delivers durable waterproof protection, without seams or joins, and is easy to apply and quick to provide waterproofing qualities. That's where Polyurethane based waterproofing membranes come. It is made up of two components, base and reactor. Polyol acts as the base, while isocyanide is the reactor component. The combination of both these in a specific design ratio creates a liquid coating for waterproofing applications. Polyurethane is a rather popular choice due to its ease of installation. Unlike other waterproofing systems like sheet membranes and liquid applied membranes, this polyurethane application requires comparatively less skill and supervision. Application is fast and this type of treatment can be used for post-construction applications as well.
Polyurethane-based waterproofing membranes is a liquid applied system that offers decisive advantages particularly where seamless systems are desired; either structurally or aesthetically, and for geometrically complicated connections with ventilation outlets or upturns.
Polyurethane waterproofing membrane Advantages;
Polyurethane waterproofing membranes yield seamless membranes with long-term flexibility while sealing around even in the most complex protrusions becomes easy. Its advantages are;
Easy and fast installation
seamless finish
Long term durability and wear-resistant
UV and weather-resistant
Resistant to alkaline cleaners, battery acid and fuels
No significant load increase on lightweight decks and roofs
Resistance to freezing temperature
Strong adhesion
Easy and fast installation
Perfect and aesthetic appearance
Resistance to corrosion
Impermeability
Resistant to root penetration
Crack-bridging up to 2 mm, even at -100C.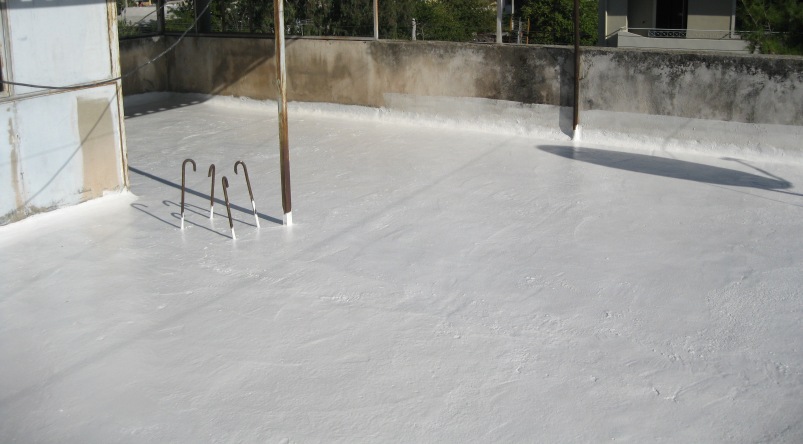 The application method of Polyurethane Waterproofing Membrane
Polyurethane Waterproofing Membranes show high resistance to standing water, thus it can be used on flat roofs without particularly good slopes. It provides a simple, secure and easy solution to difficult sealing points (e.g. corners, edges, joints with roof outlets, etc.).It creates a continuous, elastic membrane with excellent mechanical strength, without joints or seams, and is used for both total sealing of flat roof surfaces and for local waterproofing of cracks. Discussed below is ts application method
The roof surface must be thoroughly cleaned
Any cracks on the surface preparation bed is cut to V section, cleaned and filled with a 1 part polyurethane based crack filling compound
The surface must be neutralized by removing alkalinity
A two pack polyurethane primer coat is first applied to the surface to serve as an adhesion coat
Primer coat is mixed in the ratio as per Manufacturers' specification.
A single coat of this primer is applied by brush over the prepared bed as an adhesion coat. The primer is then allowed to dry for a minimum of 8 hours before the successive finishing coats of PU are applied
Allow to dry for at least 8 hours.
PU coat is applied by brush or roller in 2 layers. The first layer is applied 2-3 hours after priming/ The second layer should be applied crosswise after 8-24 hours, depending on the weather conditions.
The PU coating is continued 150 mm up the parapets or walls. It should also be continued at least 100 mm into the rainwater pipes
The final Polyurethane coat is sprinkled with a micron layer of clean sand.
Application areas
Flat roofs
Pitched roofs
Balconies
Plaza decks
Patio
Water tanks
In wet damp floor areas from internally and externally
Used to fill the gaps and cracks formed in the walls or floors of buildings such as tunnels, bridges, concrete wall
Different types of Polyurethane Waterproofing Membrane Products
Single component, ready to use elastic material
One-component polyurethane primer
Two-component polyurethane primer
Polymer-modified, fiber-reinforced repairing cement mortar
Polyester fleece for reinforcing waterproofing layers
Polyurethane sealants
Aliphatic polyurethane-based, ready-to-use membrane
Conclusion
A flat roof, terrace or deck is constantly exposed to humidity, ultraviolet degradation, weathering, acid rain attack, mechanical wear and ongoing movement stresses. Polyurethane Waterproofing Membrane is the answer to these problems. In this article, we have discussed its advantages, application and product types. In an upcoming article, we will discuss each product type in detail.